I turn 27 tomorrow. I turn 27 tomorrow and I still carry my belongings to work in a backpack. It is not cute. It is sort of useful, in that it has various pockets for things like laptops and pens, but it is not cute. It's easier on the shoulders when carrying heavy stuff, but all I carry most days is my lunch and a few other papers. It's also decidedly not
professional
, but I'm not sure this really matters when people think it's worthwhile to complain about not being able to wear jeans to work.
[An aside, but I abhor the word professional when used as a noun. "I am a young professional." Turn-off.]
So here I am, ready to make the big bag switch to a big bag. Only past shopping experiences have shown that I am very picky when it comes to bags. I don't like excessive buckles, or weird textures, or anything too shiny. To make the whole process even harder, I wanted something big enough to fit papers, a lunch, and preferably with some separate compartments so there's some internal organization.
These bags exist, they do. The problem is that they all look something like this: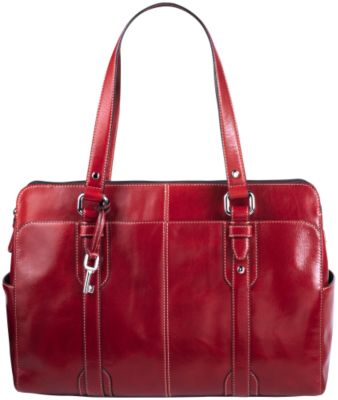 Fossil Executive Top Zip Tote
I mean, really. If I can barely tolerate the word professional, do I really want a bag that's called executive? No. I could wear this to work if I wore pantsuits and pumps every day, but thank god, I don't.
So off I went to other outlets. There were some contenders, but I had a really tall order to fill. (I also didn't really want to spend $200.)
the annie leather bag

xl tote shopping bag (sold)
As I looked at my options that were okay, but not perfect, I kept thinking back to that Target bag I spied a few weeks ago. Large. Simple. Cheap. I finally just bought it, knowing that it could be returned. But I tell you, it is growing on me.
I like that it has convertible straps (good for biking!), and it is nice and roomy for all sorts of things. It does have a divider and one internal pocket, but nothing else to help organize everything in such a cavernous space of a bag. That worries me a bit. But for $23, it's really not bad.
Anyway, if any of you shopping savvy folks have other ideas, let me know.